Today our flag outside flies high.
Joshua has asked us several times, "Why are you putting that out? What does that mean?"
We explained to him several times and finally... he got it. He understands the difference between good guys and bad guys. He knows that we should celebrate all the "good guys" that fight for our freedom. He gets excited when he sees someone in a uniform and knows that they are a hero.
So although we didn't do anything extra special today, our son knows what the flag stands for, and that makes it a great day. He knows to say "thank you" for those who fight for our freedom.
So, "Thank you!".. from the Smith house to yours. You are a hero in our book.
Today, we did drive over to my hometown and pick up my Mother for a early Memorial Day lunch. My husband was so gracious to then drive us down to the beach where I spent every summer until well in my teens.
There, I had some boiled shrimp and fried oysters at one of my favorite restaurants, Stingaree.
Joshua loves that it overlooks the water and that he has boats to watch coming in and out of the canals while waiting for our food.
szxcvbnm <---- Joshua wanting to give his 2 cents.
After we ate lunch, he and Granna relaxed out on the deck watching the boats and the people fishing.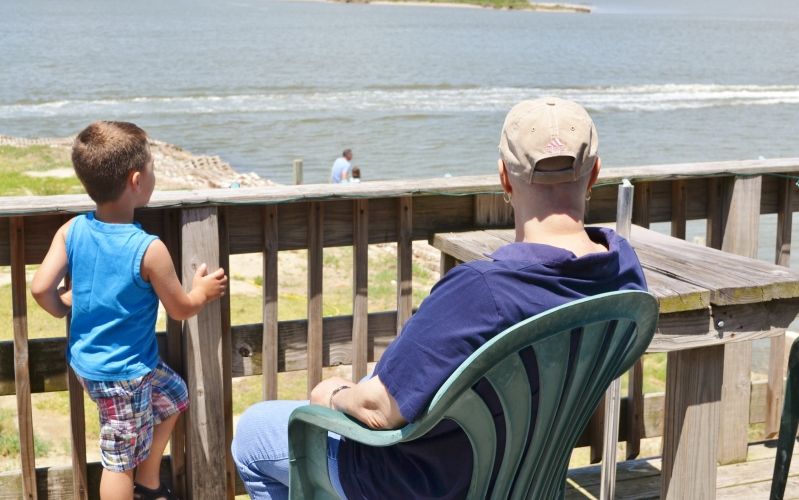 and of course... looking down below..excited that he could see a lawn mower.
The day was perfect.. beautiful... I had only wished that we had time to head down to the beach and enjoy the nice warm waters. We did drive by our old beach house.... and it's still gone. Only the pillars left standing. The new owners decided not to rebuild and it will probably sit vacant forever.
It's ok though.. I had good memories there. I just wish I could have continued those memories with my family.
I am still crossing my fingers that I will win the lottery (so we can buy a new beach house)... but then my husband reminds me, "You have to play to win." So I uncross my fingers and thank god for the blessings that I do have.
What a beautiful day....