Joshua has a
girlfriend
friend from school that he says is his best friend. Today was her birthday party.. Finally!... he has been asking for weeks now if it was time. (I swear I am going to start not telling him where we are going until 10 minutes before hand.) But today was the day! He put his swim clothes on as soon as he got up and begged to leave. I had to explain to him that they party was not until later. .. he wined.... I distracted him with Team Umizoomi on TV.
Then, being the goofball I am.... we got there 30 minutes early. I apparently can't read invitations.
So, we drove around the block a few times.. while Joshua asked... "Where is her house?" .. "Why can't we go there?" ... "Are we late?"....
Finally I couldn't take it anymore... so 15 minutes early.. we pulled up and I was prepared to apologize for not being able to read.
However, there were already kids there playing in the pool... including Kiley.. Joshua's best friend. He ran excitedly over to her.. gave her a hug, and then went for the slide.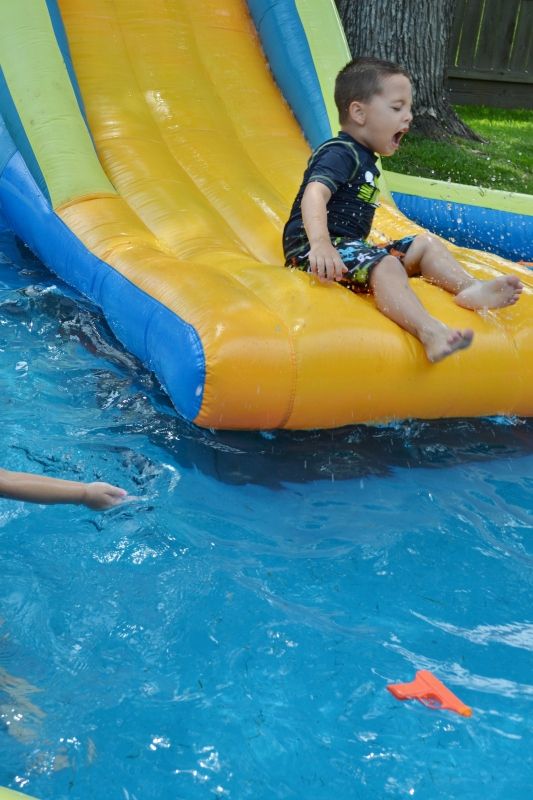 He had a lot of fun at this party.. and the slide totally rocked! Wished I would of had my swimsuit.
Joshua and Kiley race down the slide...
All I can do is laugh at this one...
Then he decided to be the pool man.
Shortly after this is when the food was ready... and the rain started. We all ended up having to run inside because the rain started beating down on the tent we were under.. then started coming in sideways...
Kiley seemed to enjoy her Barbie that we got her... the clothes not so much... but then again, what 4 year old is going to say... "I just love this shirt!"
All in all... a great day.
We are just sad that Kiley won't be joining Joshua at school next year.